Gingerbread Cookies

          1 cup molasses (Brer Rabbit, mild)

          1 cup butter or margarine

          1 cup dark brown sugar 

          5 cups sifted flour

          3 teaspoons ground ginger

          2 teaspoon cinnamon

        1/4 teaspoon salt

          1 large egg

          1 teaspoon vanilla

1 - Heat molasses in large saucepan.  Remove from heat, stir in butter (or margarine) & brown sugar.  Cool.

2 - Sift flour and dry ingredients.

3 - Slowly, a little at a time, stir most of this flour mixture into the molasses-butter-sugar mixture.

4 - Add egg and vanilla, mix well.

5 - Stir in remaining flour, blend well.

6 - Cover dough and refrigerate if not to be molded at this time.

7 - Follow the instructions for molding in deep cavity molds (cookie stamps may be used).

8 - Place cookies on lightly greased cookie sheet.  Bake in preheated oven at 325 degrees for 10-15 minutes.  Smallest cookies at 10 minutes, largest at 15 minutes.

Hints:  Less spices may be used if your children find this gingerbread too spicy.  

Can be kept in freezer or kept soft by storing with slice of apple or rye bread.


Hand Carved Picture-Cookie Molds

Gingerbread Cookie Recipe

Hand Carved Picture-Cookie Molds

Gingerbread Cookie Recipe

This page was last updated: July 1, 2021
GINGERBREAD COOKIE RECIPE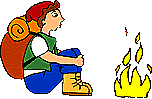 The Gingerbread Man 

as told by Abraham Lincoln

When we lived in Indiana, once in awhile, my mother used to get 

some sorghum and ginger and make gingerbread.  It wasn't often, 

and it was our biggest treat.  One day I smelled the gingerbread 

and came into the house to get my share while it was still hot.  

My mother had baked me three gingerbread men.  I took them out 

under a hickory tree to eat them.  There was a family near us poorer 

than we were, and their boy came along as I sat down.  "Abe," he 

said;, "gimme a man."  I gave him one.  He crammed it into his mouth in two bites and looked at me while I was biting the legs off my first one. "Abe," he said, " I don't s'pose anybody on earth likes gingerbread  better'n I do - and gets less'n I do!"


Raleigh Tavern Bakery Gingerbread Cookies, Colonial Williamsburg VA

1/2 cup  butter (1 stick), softened

1 cup      sugar

2 T.       cinnamon

1 1/2 T.  nutmeg

2 T.       ginger

1 T,        lemon flavoring

3/4 cup milk

5 cups    unbleached all-purpose flour

1 1/2 T. baking powder

1 tsp.     vanilla flavoring

1 tsp.    baking soda

1 tsp.    salt

1 cup    molasses

          Preheat oven to 350 degrees F.  Cream butter and sugar.  Add spices, lemon and vanilla flavorings and milk, blending well. Sift together flour, baking powder, baking soda... and add to sugar mixture alternately with molasses to make a smooth dough.

          Chill in refrigerator 2 hours.  Shape cookies and bake on greased and lightly floured cookie sheet until   done - about 8 minutes.  Do not let cookies overbake. 


Double click here to add text.